Dear friends,
As I mentioned this week previously the movie The Silence Of The Lambs, I figured it would be nice if I would also make a review on it ;)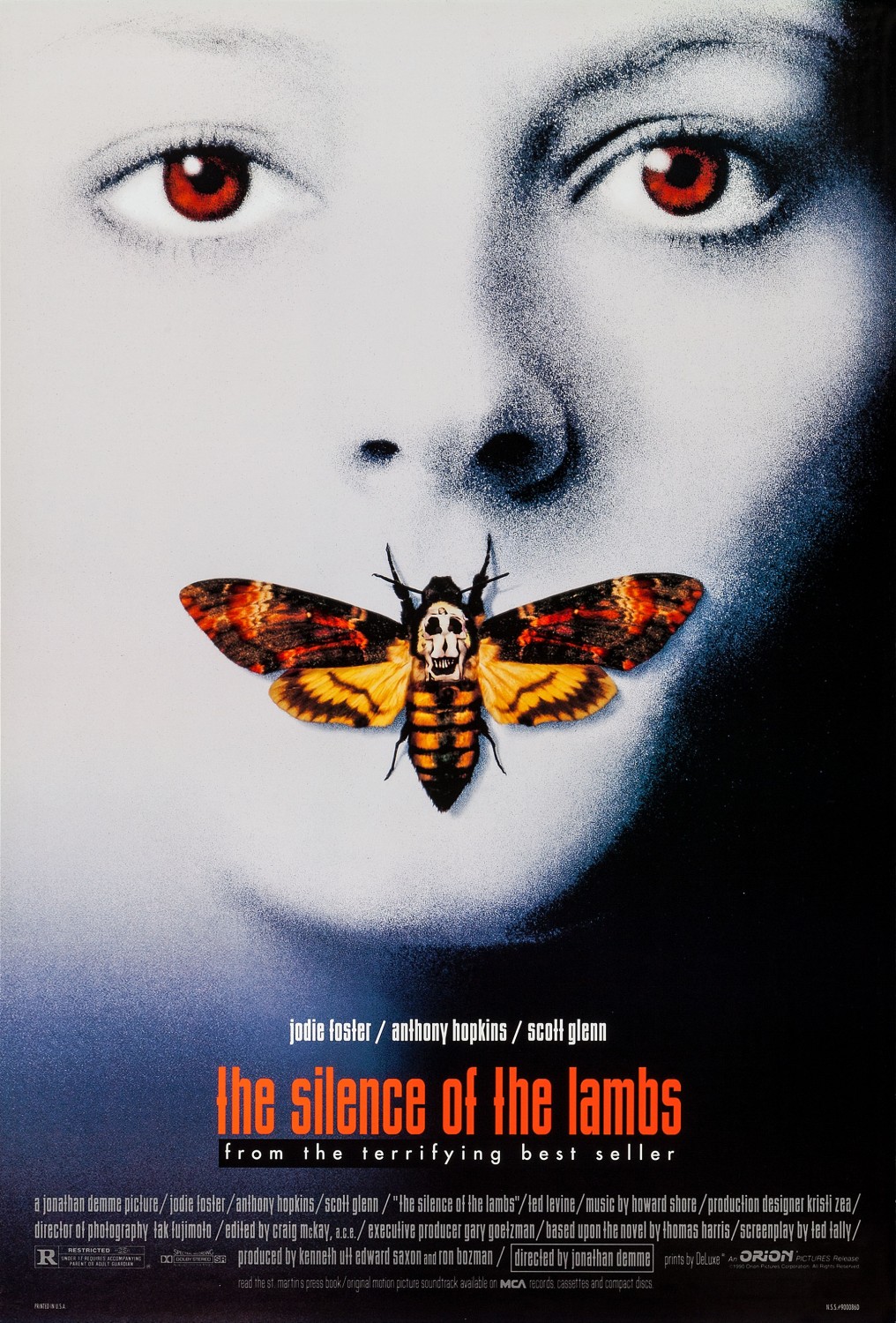 Hannibal Lecter

: "Plum Island Animal Disease Research Center." Sounds charming.

Clarice Starling

: Thats only a part of the island. Theres a very, very nice beach. Terns nest there. Theres beautiful...

Hannibal Lecter

: [

cuts her off

] Terns? Mmh. If I help you, Clarice, it will be "turns" with us too. Quid pro quo. I tell you things, you tell me things. Not about this case, though. About yourself. Quid pro quo. Yes or no? [

pause

]

Hannibal Lecter

: Yes or no, Clarice? Poor little Catherine is waiting.

Clarice Starling

: Go, doctor.
Yes, I know... Of course this is not the famous quote in the movie but it is MY QUOTE! :) The whole world probably positioned this one as the best: "
A census taker once tried to test me. I ate his liver with some fava beans and a nice Chianti
."
I first watched this movie when I was a little girl somewhere between 5th and 8th grade... I cannot tell you how come my parents let me watch it - now come to think of it... it is quite a hard movie...
Despite being a thriller/ horror – categories which are not renowned for being successful at the Oscars, The Silence of the Lambs remains one of only three films to win the Big 5 at the Oscars (Best Film, Director, Screenplay, Actor and Actress). The other two are One Flew over the Cuckoo's Nest and It Happened One Night.
It's common film trivia that Robert De Niro set a record for weight gained by an actor to play a role. De Niro piled on more than sixty pounds to play the Raging Bull Jake Lamotta, for which he quite rightly won the best actor Oscar for what is perhaps the greatest performance of all time. Equally as ballyhooed is Rene Zelwegger piling on over twenty pounds for Bridget Jones. However, Brooke Smith who plays the abducted senator's daughter Catherine Martin, piled on twenty five pounds to play the small role.
The part of Lecter was coveted by most actors with a long list of Oscar winners including Robert Duvall, Jack Nicholson, and Robert De Niro all being considered. Plus a tidy British contingent including Patrick Stewart, John Hurt and the original Hannibal from Manhunter Brian Cox all auditioned. Jeremy Irons was chosen as the stand out candidate, which actually makes great sense and I can quite easily imagine how his Hannibal might have been. Irons turned it down, but did not live to regret it as the part he chose over it was Claus Von Bulow from Reversal of Fortune, which he, like Hopkins would go on to do, won Best Actor.
Is all fiction based on reality? Well the antagonist in Silence of the Lambs certainly is. Buffalo Bill, the murderer who lures women into his van, keeps them locked in a well in his house and then skins them before killing them to make a full body human body suit for himself is an amalgamation of three legendary American serial killers of the 20th century. Gary Heidnick was infamous for keeping his victims locked in a pit. Ed Gein skinned his victims. And Ted Bundy used to wear a cast on his arm to lure victims into his car.
Tell you the truth, I know it is weird that SOTL is one of my favourite movies, yet it is! The level of acting done by Jodie Foster, Anthony Hopkins and Ted Levine (who, under my opinion, is well underrated as an actor - just check him out in this movie and in Moby Dick - The TV Miniseries and you will understand what I am saying here ;) Trust me!) is divine and they way that Anthony just clicks with Jodie is amazing! You can feel the spark and the tension and the attraction between the 2 of them. And forgive me to say this but this does not happen again when Julianne Moore steps in the scene as Clarice in the sequel "Hannibal" in 2001... I am sorry! She is a pretty lady, a good actress but she cannot fill in Jodies shoes in this role!
The settings of the movie are static and dark and gloomy and they are based on 2 main locations: the prison where Hannibal is kept and Clarice is interviewing him & the house of Jame Gumb where he keeps his victims and makes his "wonderful" human coat... I love the relationship that forms around Clarice and Hannibal and they way they understand each other... Clarice (who is the center of the movie, the principal character, not Hannibal! He is secondary and he is the help!) is feeling put down by the law enforcement profession because she is a woman and everyone around her is a man, and man tower over her and do not let her be... Hannibal is put down by the world by the fact that he is a criminal/a serial killer and a cannibal...
Jodie Foster and Anthony Hopkins won Oscars for best actress and actor (the movie also won for best picture, for Demmes direction and Ted Talleys screenplay, and was nominated for editing and sound). It is remarkable that the Academy would remember, let alone single out, a film released 13 months before the Oscarcast; it usually votes for films that are still in theaters, or new on video. But "Silence" was so clearly one of a kind that it could not be ignored.
I dunno why but somehow Hannibal, even though a criminal and a paria of the society, seems very appealing to the audience. After all, is he not the one who helps Clarice save the day and catch the criminal and save the imprisoned girl?!
I recommend this movie but you must promise me not to watch it with youngsters as they will raise 100 questions during the movie + it involves nudity + it involves violence + children may dream about this and have maybe nightmares and weird ideas after this...
P.S. The Music is done by no other than Howard Shore whom you might have known from "
Lord of the Rings: The Return of the King (2003)" ;)
Yours truly,
The Movie Fan LadyBug :)